Spirit Week Dress Up Days Start Tomorrow! Click to view!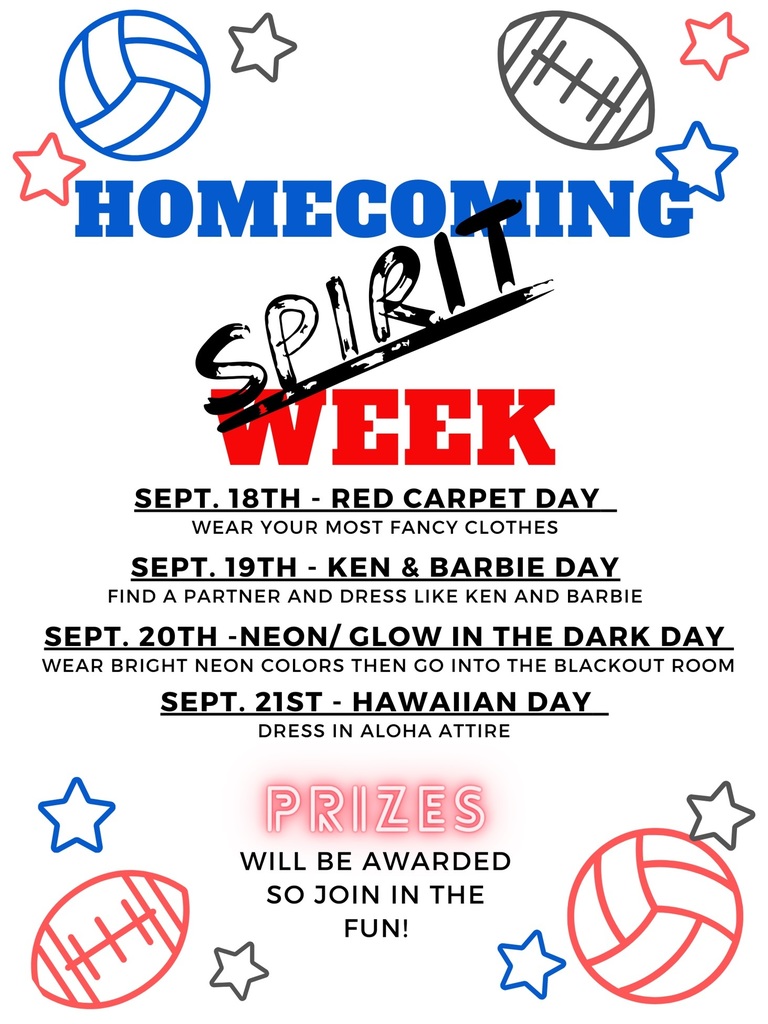 Incredibly busy week coming up! -MONDAY-GVB C squad/JV vs. Fergus @ Fergus 5:30/6:45 p.m. -TUESDAY-JHVB B and A squads will take on Lewistown 4/5 p.m. @ the Civic Center -THURSDAY-Float building-8:30-12:30; Pep Rally @ 1:30 p.m. -FRIDAY-JH & HSVB @ Melstone 4:30/5:30/6:30 p.m. -SATURDAY-JHFB @ 10 a.m. vs. Harlo; Parade @ 11:30 a.m.; HSFB @ 1 p.m. vs. Harlo; JH & HSVB vs. Harlo 3:30/4:30/5:30/6:30 p.m.

Hunter education class September 23rd and 24th at Geyser School for ages 10 years and older. Also Bow education class will be September 23rd and 24th at Geyser School for ages 11 years old and older. Parents will need to register at
http://www.fwp.mt.gov
If anyone has any questions please reach out to Jessica Goodhart at 406-366-1652.

FB vs. Big Sandy Change-Due to a lack of referees, DGSG vs. Big Sandy will move from Friday, Sept. 8th to Saturday, Sept. 9th. JHFB @ 4 p.m.; HSFB @ 7 p.m. Stanford drives leaving @ 12:45 p.m. from Stanford. Go Bearcats!

Good Luck Lady Bearcats as they head to Lavina today to take on the Pirates. Bus leaves @ 12:20 p.m. JH C @ 3:30/JH B @ 4:30/JH A @ 5:30/JV @ 6:30/V @ 7:30 p.m.

Game Changes: JHVB Jamboree in Winifred this Saturday has been cancelled. Instead, Stanford will play Winifred on Friday, September 1st. Game times: JH C 4 p.m./JH B 5 p.m./JH A 6 p.m. Geyser drives-leave Geyser @ 1:15 p.m.; Geraldine leave (1:15 p.m.); pickup Stanford @ 1:30 p.m.; pickup Geraldine @ the junction @ 1:45 p.m.; pickup Denton @ 2:15 p.m.

There will be no school on Monday, September 4th because of Labor Day. We will instead have school on Friday, September 8th.

Starting today, Chess Club will be meeting after school on Mondays and Wednesdays

Busy week of athletics- JH & JV VB in Geyser on Tuesday beginning @ 4 p.m.; HSVB @ Cascade Tourney on Friday and Saturday; JHVB @ Winifred Jamboree on Saturday; JHFB and HSFB @ Home on Saturday vs. Valier-JHFB 10 a.m.; HSFB 1 p.m. Come cheer on our Bearcats!


We will be holding an open house ice cream social on Tuesday, August 22nd from 3:30-5:30. This is a great time to meet with teachers, go over schedules and visit with a McKinstry representative about our bond.

Two different ways to get your schedules! First image is linked to this live feed. Second-Under Documents- Sports Sections have their schedules under each folder. Please holler if you have any questions!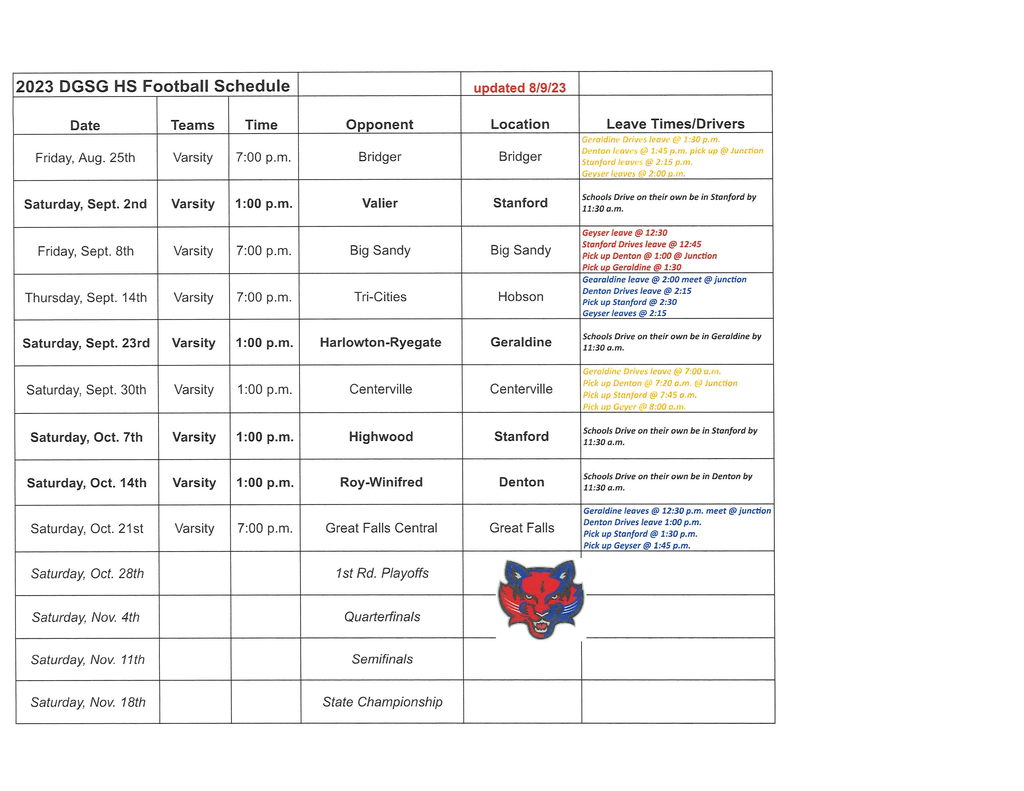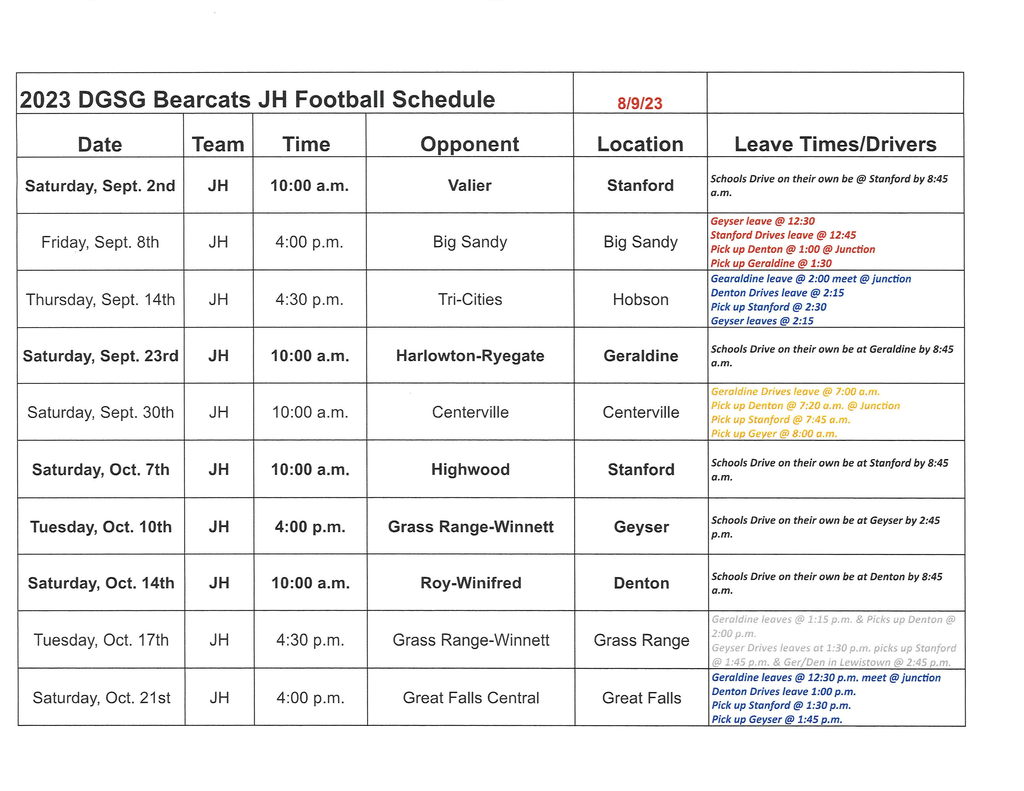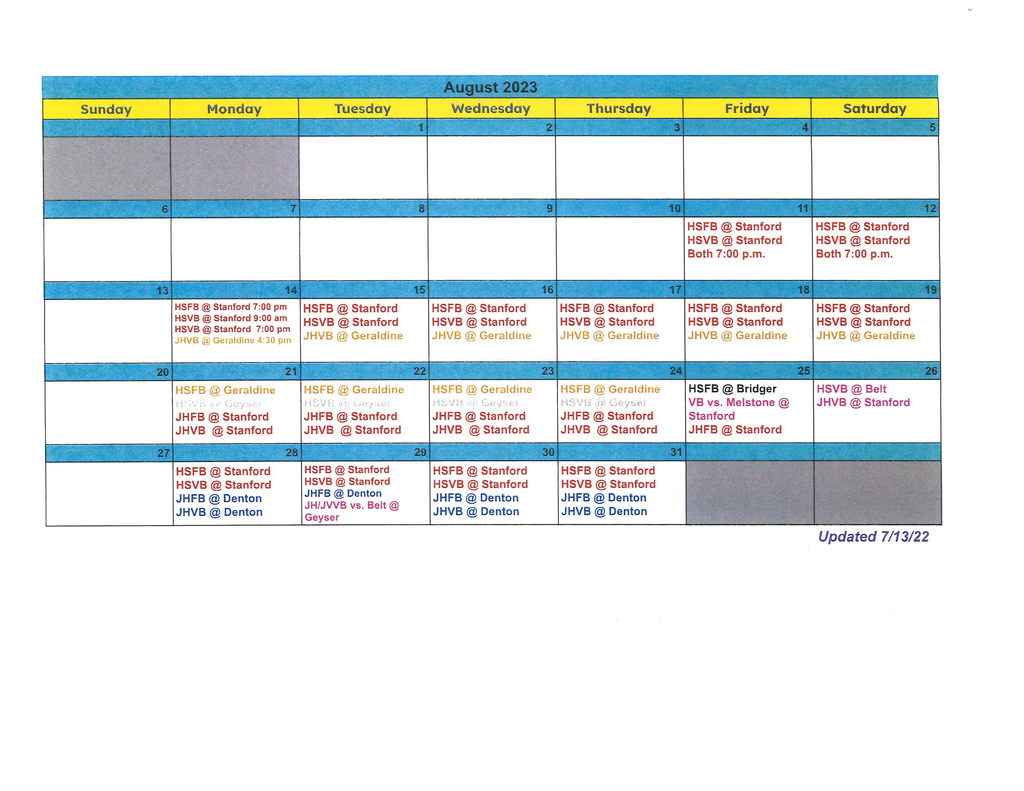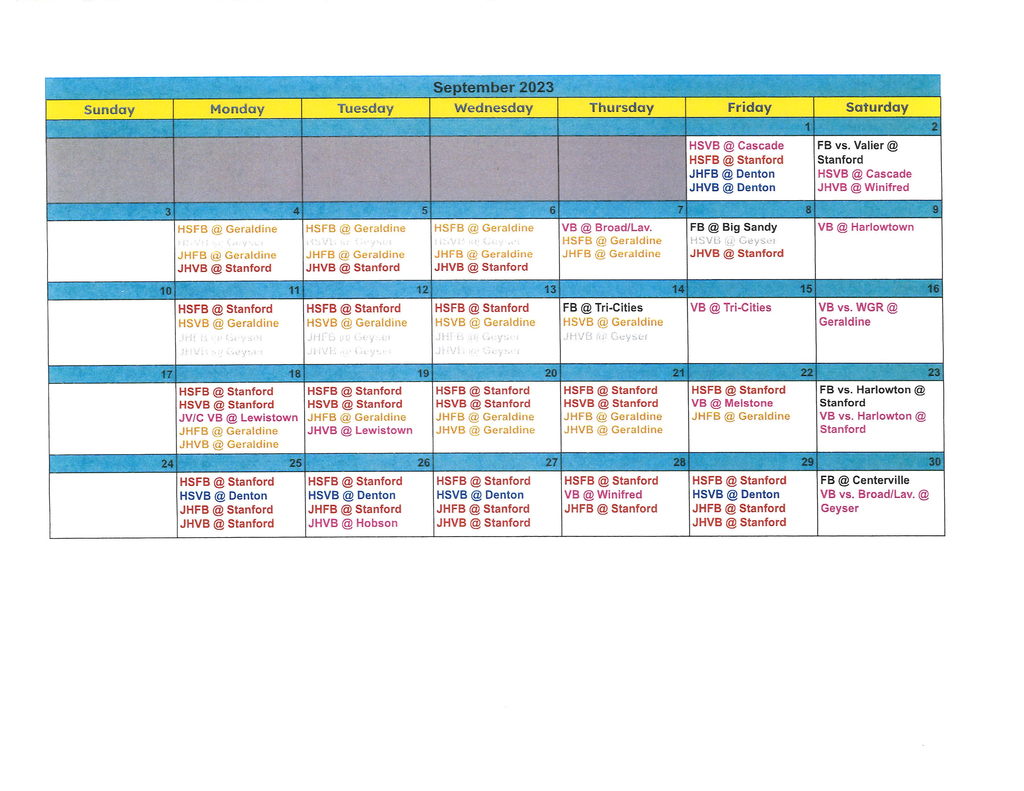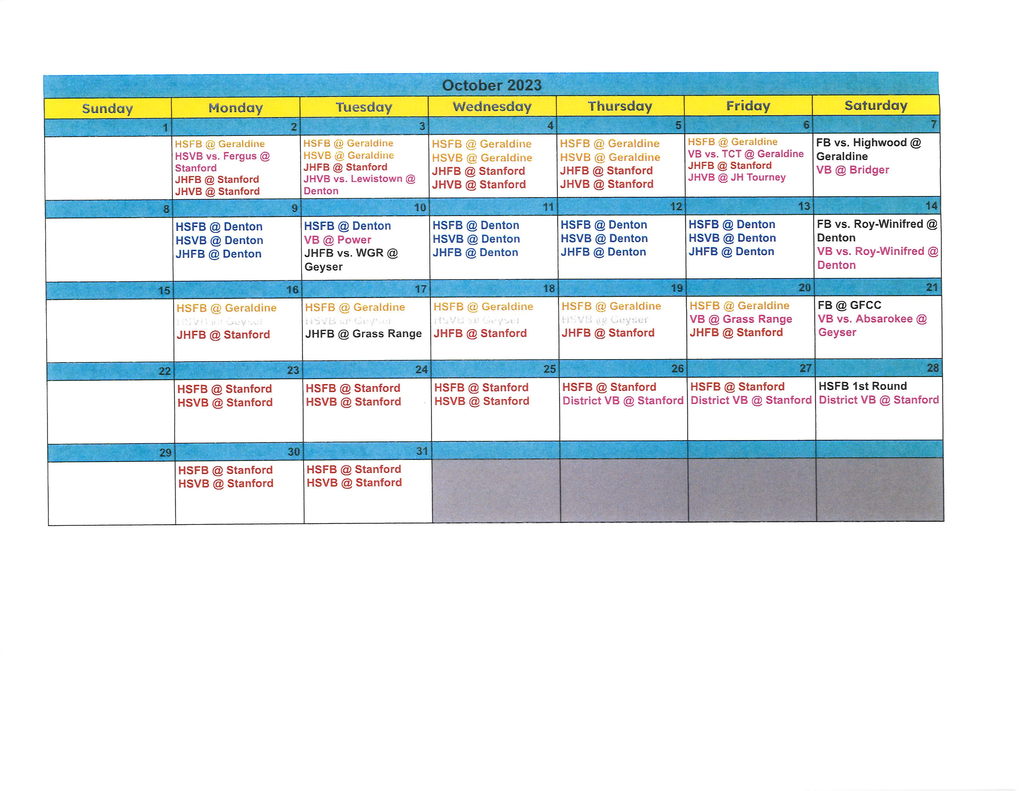 JHVB's 1st practice will be Monday, Aug. 14th in Geraldine @ 4:30 p.m. School transportation will leave Stanford @ 3:45 p.m. Be sure all physicals, ImPACT testing, and sports paperwork is turned in to schools or coach by the 1st practice.

HS VB and FB practice is coming soon! Be sure to have an updated physical, complete your ImPACT tests, and bring in your sports paperwork to hand in by the 1st day! Both HSVB and HSFB will begin practice on Friday, Aug. 11th in Stanford @ 7 p.m.

Join us in celebrating our 2023 graduates! Graduation ceremony for Whitley Keimig (early graduate) will be held at 11:00 a.m. on Saturday, May 20th. The senior class of 2023 (Damon Raprager, Clayton Hofmeister, Kara Reed, Garrett Davis, Jada Errecart, Ace Becker, Colter Howell) will follow with their commencement at 2:00 p.m. in the Stanford School gym.

It is almost time for the annual Stanford Bike a thon!  Friday, May 19th from 1 p.m. to 2:30 p.m.  Kids will begin asking for pledges for family and friends so that they can earn money for upgrades to their school playground.  This year the 6th grade will be offering prizes for each K-6th grade level-1 prize for top money earner and 1 prize for top lap earner.  Thank you for the support of the Stanford Elementary!

The DGSG Bearcats Sports Banquet will be held Monday, May 15th @Stanford City Hall beginning @6 p.m. with soup, muffins, drinks, plates & silverware being provided by Stanford School & Booster Club. We ask Denton & Geraldine School parents to provide desserts for the potluck and Geyser & Stanford School parents to provide salads/side dishes.

Our Pre School Screening that was scheduled for today has been postponed until Monday, April 24th. Those of you who were already scheduled, we will be reaching out to you. If anyone is interested in signing their child up, you can call the school at 406-566-2265.

Changes: To make up for one of the Snow Days we had to take, it has been decided to have school this Friday, April 21st.  There are a lot of things going on that day, so the day will look a little different.Friday is District Music Festival in Lewistown.  The plan is to have ALL Junior High and High School students leave the school at 9:00 and then go bowling at Snowy Lanes from 10:00-12:00. Sack lunches will be provided.  Those students NOT participating in Music Festival will return back to school.  School will dismiss at 1:00.  Elementary students will have classes and workshops in the morning with an early release time of 1:00.  Buses will run at this time. Elementary students participating in Missoula Children's Theater will have practice at 1:00, after dismissal.

CMMC will once again offer a Sports Physical Clinic for all students incoming grades 5th-12th at Stanford School on Thursday, May 25th beginning @ 8 a.m. and running up until early afternoon. Please call CMMC Office Number for scheduling: 406.538.4110 Also, please bring completed forms (privacy forms and MHSA physical) with you to your scheduled time! Forms can be found under "Documents" and then "DGSG Sports Schedule and Forms". This physical will work for the 2023-2024 school year.