Missoula Children's Theater is almost here! -Next Monday, April 17th, 2 members of the Missoula Children's Theater will be here to teach/train our Stanford School students the play, Little Red Robin Hood. All K2-12th grade Stanford students are invited to try out for parts scheduled for Monday, April 17th @ 3:45 p.m. Parts will be assigned and practice will then follow Monday-Friday followed by performances on Saturday, April 22nd in Stanford Auditorium.

Finally, JHBB tourney time is here! Games begin @ 2 p.m. today with both our Bearcat teams earning the #1 seed and first game of their respective tourney. Bearcat Boys will play Highwood in Geyser at 2 p.m.-Geraldine drives- bus leaves @ 12:15 p.m.; pickup in Stanford @ 1 p.m.; Arrive in Geyser by 1:15 p.m. Bearcat Girls will play GFCC in Stanford at 2 p.m.- Coach Katie leaves @ 12:15 p.m., arrive in Stanford around 1 p.m. With wins @ 2 p.m., teams will turn around and play again @ 6 p.m. Just a reminder, since this is a tourney, regular passes do not work. Single Day Gate Admission-Adults-$6, Students/Seniors-$4. All Session and All Tourney Passes also available- Adults $18 and Students/Seniors $10. This gains entry to both Geyser and Stanford and each day. Available at the door!

Dear Parents/Guardian, As the HS and JH basketball seasons wrap up, we are looking to have a fun Little Bearcat Basketball Season. This would be for our k1-5th grade students. We would like to offer practices on Tuesday and Thursday during the month of April (Thursday, April 6th, Tuesday, April 11th, Thursday, April 13th, Tuesday, April 18th and Thursday, April 20th) from 5:30-6:30pm in the Stanford gym. On Tuesday, April 25th and Thursday, April 27th Mr. Neumann will lead students in games. We are looking for a few grownups to assist in leading/coaching the practices in April and for the scrimmages. If you would be interested in helping, please let me know. Thank you! Meredith Phillipe (
mphillie@stanford.k12.mt.us
)

MCT is coming! Missoula Children's Theatre will be in Stanford on April 17th-22nd and they are looking for interested K-12th grade thespians! Audition on Monday, April 17th @ 3:45 p.m. A wonderful experience for all kids!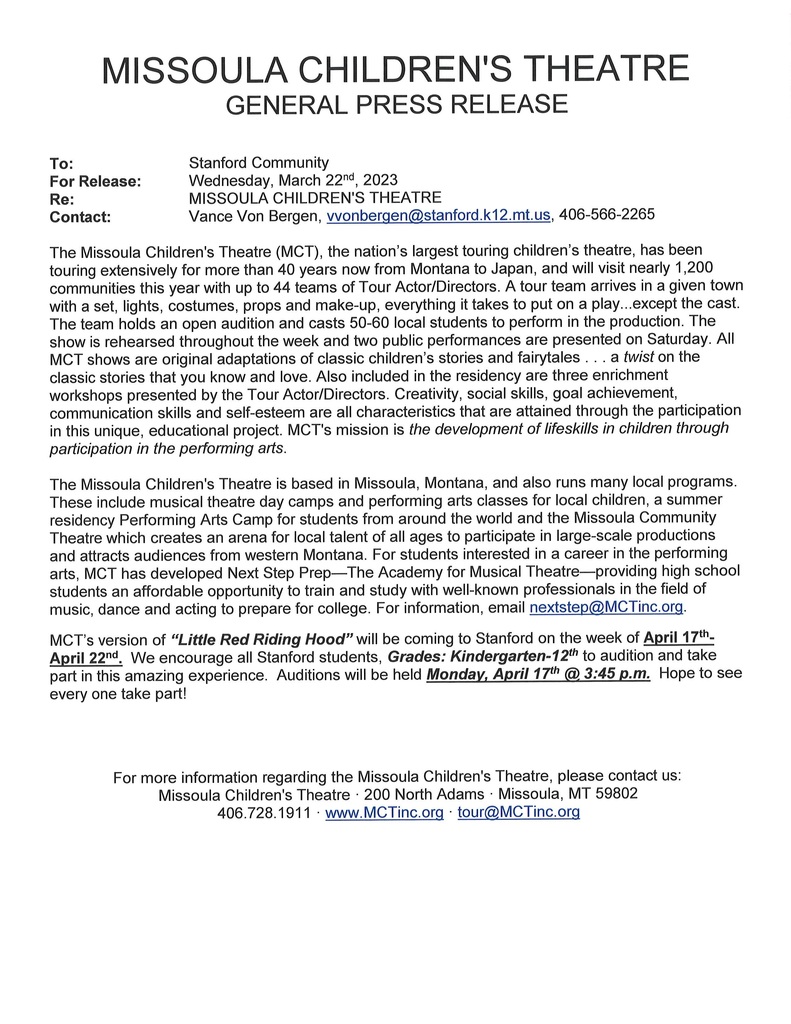 HS Track Season has begun. Tracksters will be busy fine tuning their skills in between snow storms! Please see the preliminary DGS Track Schedule. More changes/additions to come.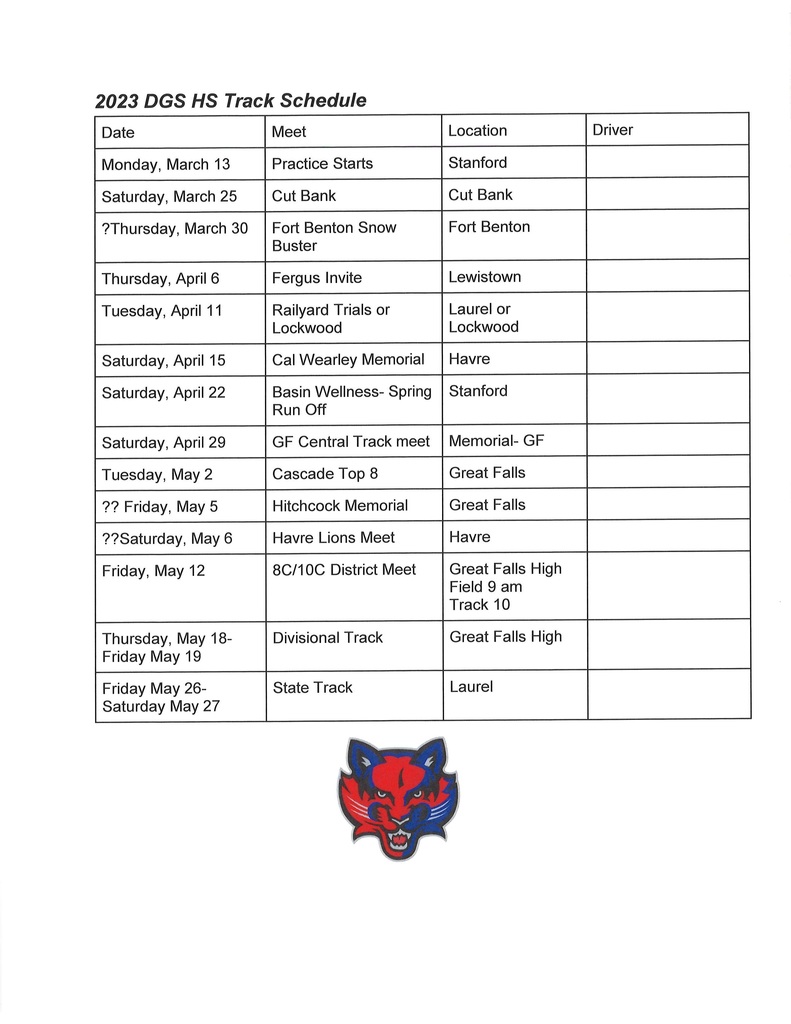 Our 2nd school ski day is coming up on Thursday March 23rd. Please return permission slips and money to the school by Tuesday, March 14th! Permission slips are being sent home.

Spring Picture Day is coming up on Wednesday, March 8th with Ubet Photography! There will not be any picture packets sent home. Nancy will take the pictures and then afterwards, she will send out a mock-up for you to view and order if you would like. Pre-school parents may bring in their child if they would like spring pictures taken.

It's that time of year again! Projected start of the 2023 Stanford Driver's Ed. Classes will be Monday, April 3rd Requirements: 14 ½ yrs. old by Monday, April 3rd (if your birthdate is close, please sign up anyway and Mr. V will take applicants based upon total enrollees and allowance from DMV) I will have a hard copy signup @ the Stanford front office or a digital sign-up at the Stanford School website if you would like to sign-up there. Sign-up is due by the conclusion of Monday, March 6th. A parent/student meeting will be scheduled for Monday, April 3rd to answer all questions. If you have questions that are needed now,
vvonbergen@stanford.k12.mt.us
; or 406-868-0164. Here is the link to a Google Form which will register your student.
https://forms.gle/m3BYsTXC2ecpzYFw7

Good evening, Stanford families! Thank you for letting us choose safety today. We WILL be open as usual on Wednesday. I went out this afternoon and drove roads for a couple hours, including most of our bus routes. They have now been plowed and the wind has died down to limit drifting while letting visibility improve. A normal day on Wednesday. But bundle up! It is chilly out there! Thank you again for your continued support of the school! Mr. C

We have tentatively rescheduled Tuesday's cancelled JHBB games to: Thursday, Feb. 23rd DGSG vs. TCT @ Hobson Girls B 4 p.m./Girls A 5 p.m./Boys B 6 p.m./Boys A 7 p.m. (Geraldine drives-leave @ 2 p.m.; pickup Denton @ Junction @ 2:30 p.m.; Geyser leaves @ 2:30 p.m.; leave Stanford @ 2:45 p.m.)

Hello Stanford Families! Mother Nature is putting on quite a show today and looks like she will take it up a notch overnight and tomorrow. We are going to be proactive vs. reactive. We will do school remotely tomorrow, Tuesday, February 21st. Teachers are making plans and will send some things home with the kids today. I know it seems like we have had a lot of closure this year. We have. But I will always err toward caution when it comes to your kids' safety. Going remote will prevent us from having an additional makeup day later in the year. I've been out on the roads today and the limited plowing has done its best to keep up with the snowfall, but it is a lot. Tomorrow has high winds and plummeting temperatures forecast. I would rather we all plan for remote today versus scramble for closure tomorrow. The amazing staff here was up for the challenge and will do their best to make it an educationally productive day for the kids. Thank you for all your support.

Ski Cards and forms are being sent home. Please return by next TUESDAY, FEBRUARY 21ST. Any questions, please contact Mr. Tempel (K1-5), or Mr. Neumann (6-12). Our school ski days are Thursday March 9 and Thursday March 23.

No cheer tonight, Wednesday, Feb. 8th!

We will have little bearcat basketball this Friday at the Stanford Home game. K-2 grades will play during halftime of GV and grades 3-5 will play during halftime of BV, just like in Jan. Please meet in the elementary hallway 2 minutes before half time.

Community Announcement: The Judith Basin Food Pantry shelves are well stocked and we are ready to help. No paperwork, no questions, just good food. The pantry is open the third Tuesday of each month from 2 to 4. (Feb 21). We are located in the Manor (402 2nd Ave N.) If you have questions, please call 406-566-2613.

-Let the craziness begin! JHBB begins on Monday, both girls & boys. Please see original starting points and parent meetings to follow practices around 6 p.m. @ that practice site. If you are new to sports for this 2022-2023, a physical will be needed before you can practice. All other paperwork can be obtained and filled out at practice. -Last regular season week for HSBB. Please be patient, as with the start of JHBB, many adaptations have to be used including late practices to accommodate BB coaches and gym space.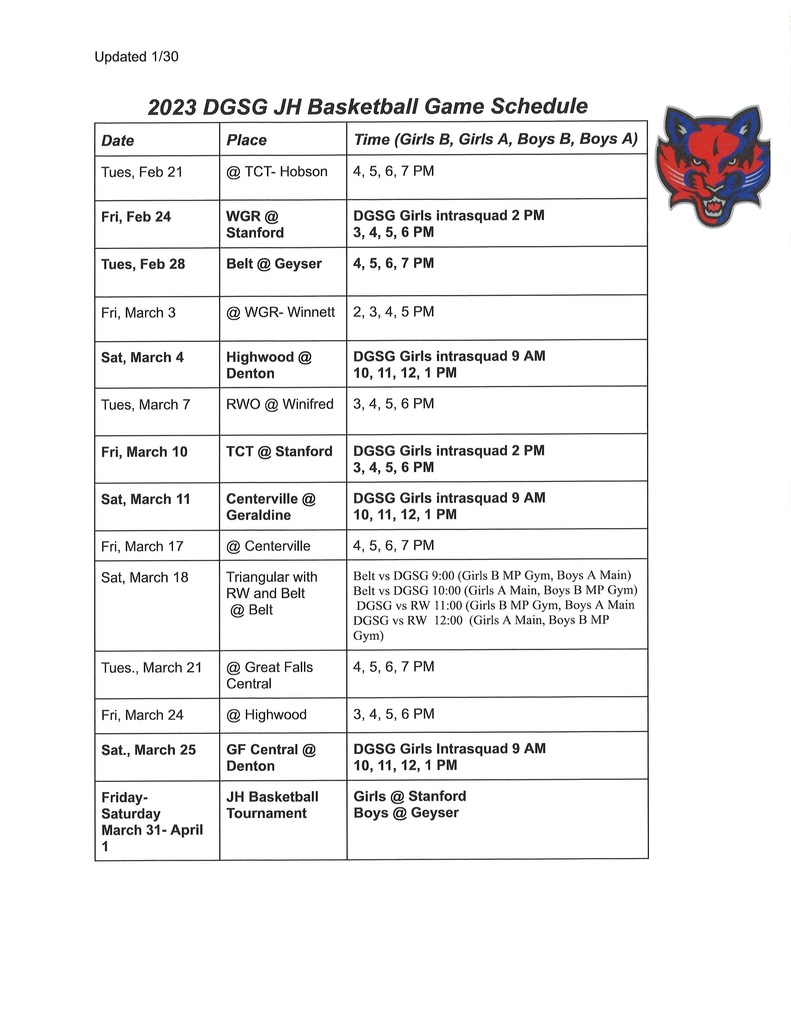 6th Grade Cookie Fundraiser continues again this Thursday, Feb. 2nd @ lunchtime. $3 a cookie will get you mouth watering delights. All proceeds raised will go towards upgrades on our school playground.

JHBB Starts: Monday, Feb 6th. All 5th-8th graders interested in playing need a physical on file with their school as well as the other co-op paperwork. Schedules will be out soon. Girls coaches are Powell Becker and Katie Heppner, Boys coaches are Beau Smith and Kade Woodhall. Contact your school's AD with any questions.

Any DGSG supporters wanting to add a Booster Page line for the District 8C Tourney, please email Vance Von Bergen your line,
vvonbergen@stanford.k12.mt.us
. Cost per line is $5. Thanks for supporting the Bearcats!

Please come visit us at our upcoming home basketball game on January 20th! Your school board members will be at the game to answer any questions you may have. Our school facilities haven't had a significant upgrade in over 60 years. The high school wing is nearly 100 years old and is experiencing multiple failures of its infrastructure. A community and school exist hand in hand. It is not IF the school needs revitalization but WHEN, and that time has come. We hope to see you there!